ABOUT THE DISH
---
On March 1, 2020, chef Nathan Richard returned to his hometown of Thibodaux. Richard is deeply grateful to New Orleans. "That's where I learned to cook and learned a lot about life." But he recently got married and is happy to be home and starting a new, more sustainable chapter in his life.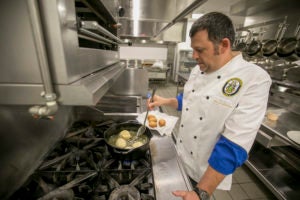 Never one to rest, Richard moved back to open Cuvèe Wine Bar and Bistro. Laughing, he admits, "It's a pretty crazy idea to open up a restaurant in the middle of a pandemic!" But the chef and veteran volunteer firefighter firmly believes in the power of community, service, and the people and culture of Louisiana. The news of how local restaurants are faring is sobering. When asked what we can do to support them, Richard offers up a host of options. "Buy the gift card. Buy the merchandise—shirts, booze, whatever they offer. Get takeout or come eat here. Throw your private party business to local restaurants. You'd be surprised at what we can make happen!"
At Cuvèe, Richard marries the foods of his childhood, his skills honed in New Orleans kitchens, and the Italian, Spanish, and Vietnamese flavors he's encountered along the way into a style of cooking that is all his own. Those looking for classic Louisiana food with a twist can find redfish on the half shell with Louisiana citrus-chipotle butter and militon coleslaw or a satsuma spiced pork chop from neighboring Mississippi with "dirty rice" faro and a café au lait BBQ sauce. And, for those looking to branch out a little more while still celebrating the local bounty, Richard serves up blackened shrimp cannelloni stuffed with oyster mushrooms, three cheeses and a roasted sweet potato marinara.
"My thing," Richard says, "is going after the underdog and trying to figure out the ways we can cook them and change people's minds." Alligator and turtle are just some of the ingredients you'll find in Richard's kitchen, and he's especially interested in looking at invasive plants and creatures—not just as threats to the Louisiana coast, but as opportunities for creativity in the kitchen. In so doing, Richard says we can allow our native flora and fauna to regenerate, preserving both our coast and our culture.
When the subject of crawfish season comes up, Richard's accent gets a little thicker. "One of my favorite things is a big ol' crawfish boil." But he doesn't stop there. Always one to tinker, Richard offers up these Crawfish and Goat Cheese Donuts: "You take two great things, a beignet and a crawfish, and you add those two together and you just can't beat it."
For Richard, Louisiana's coast is not just a place for hunting and foraging the delectables that he serves up, but one of protection. "We need these coasts and wetlands to protect us; they're our first defense against hurricanes." He sees taking care of the coast as incumbent on all of us. "If we don't, it won't be there forever." The newlywed is clearly thinking about his own future: "I want my kids to one day enjoy the things I have."