Print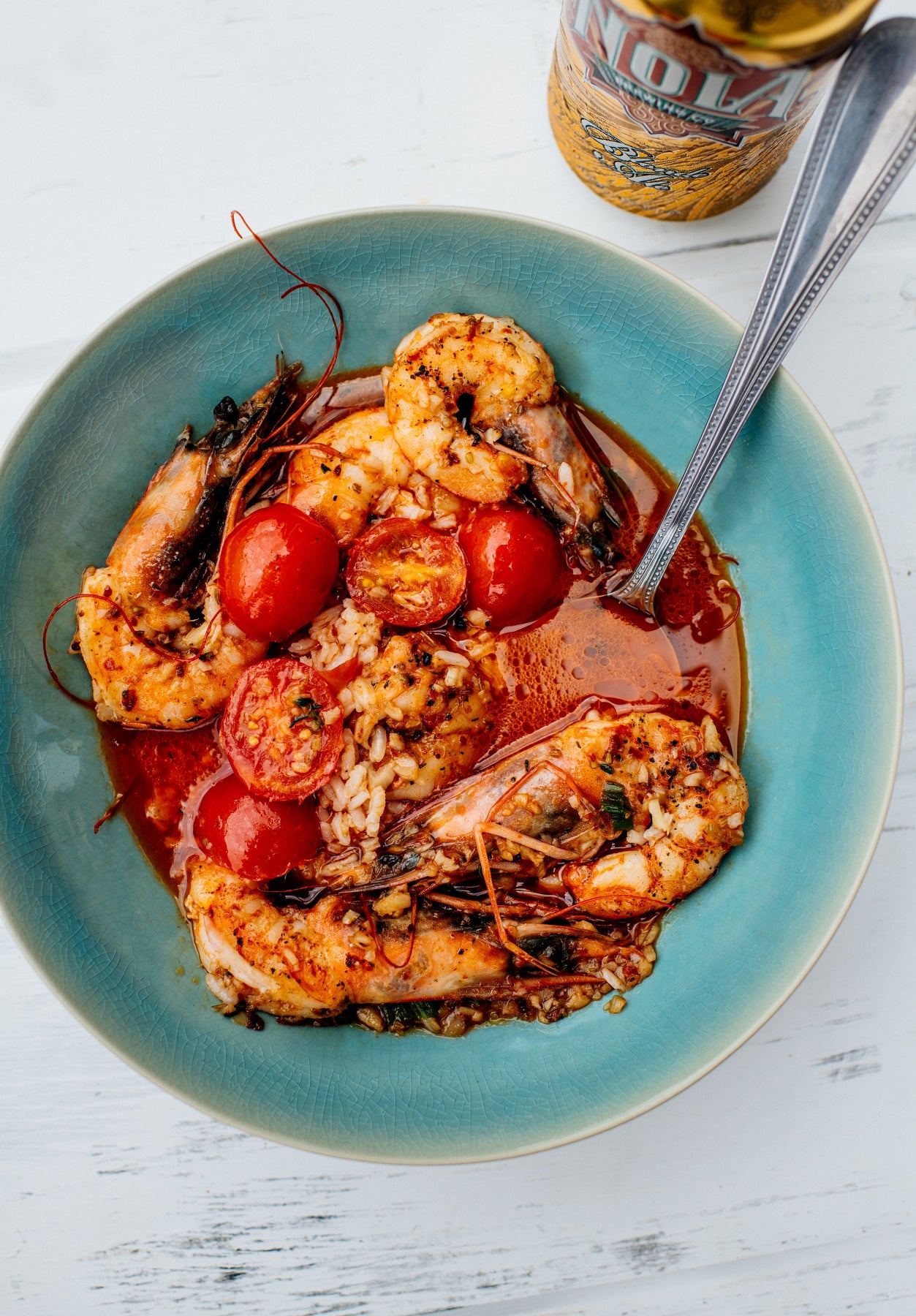 Isaac Toups' Drunken Shrimp Celebrates The Distinct Taste of Louisiana Seafood
Author:
Total Time:

30 min

Yield:

2

-4

1

x
Notes
This is a great, quick way to serve beautiful fresh head-on shrimp. Got someone coming over in 20 minutes? This is your go-to. Just try and dupe someone else into peeling the shrimp.
JUMP TO RECIPE
ABOUT THE DISH
---
Family meals have fallen out of favor in much of the restaurant industry. But, since opening Toups' Meatery in 2012, Amanda and Isaac Toups have kept the tradition alive making sure that staff share a meal together—year-round, rain or shine. "I can't stand to let people go hungry," says Isaac, the chef of the family. Amanda, his wife and co-worker, is quick to jump in, adding, "We don't close, even when there's a hurricane."
It is no surprise then that, when faced with the potentially crippling blow of the coronavirus pandemic, the Toups were quick to respond. Their aim was to ensure work for their team and to do what they have always done: feed New Orleans.
What began as the standard 10-person family meal quickly blossomed into feeding 20, 30, 40 people—eventually exploding into nearly 450 meals per day, five days per week. Isaac chuckles as he describes two big crawfish pots and a wooden paddle worn down to the nub that have allowed him and his kitchen crew to rise against the storm.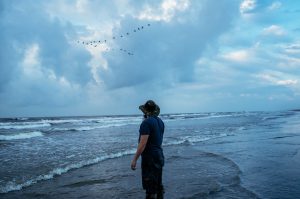 While Isaac helmed the kitchen, Amanda worked her connections, receiving donations from local businesses and building a community-driven network to deliver food to hospital workers, firefighters, and other first responders, as well as local homeless shelters. Cash donations from patrons all around the country began arriving via Venmo. A partnership with José Andrés' World Central Kitchen allowed Amanda and Isaac to increase their reach.
The greatest reward, as Isaac sees it, comes from "the little smiles, not the big smiles, just helping people out a little bit." Amanda sees the success of this venture as "a testament to how small community and small business come together."
While they have been part of the New Orleans restaurant industry for more than 20 years, Isaac is quick to point out he grew up "deep in the heart of Cajun country," in Rayne, Louisiana. His Cajun upbringing—prairie Cajun on his mother's side and coastal Cajun on his father's—influences his cooking to this day.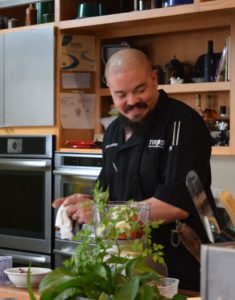 The superior quality and distinctive taste of Louisiana seafood are a key element of Isaac's food. His recipe for Drunken Shrimp celebrates what he believes are the best shrimp in the world. Amanda emphasizes that the head houses the flavor and should be kept on for cooking, while the tails can be discarded.
Shrimp, along with nearly all the meats served at Toups' Meatery, are locally sourced from the Louisiana coast. Isaac himself often makes the trip to negotiate, serving as a bridge between the fishermen who harvest the catch and those of us who simply eat it. Amanda sees these personal interactions as critical to maintaining the sense of community and commitment to the local economy in the region—and to preserving the coast for future generations. As Isaac sees it, "This is my family's heritage. We were born and raised down here. It's our land, it's our culture. The seafood coming out of it is all part of what we do. It's how we live."
RECIPE
---
Ingredients
Author:
Total Time:

30 min
Yield:

2

-4

1

x
Ingredients
10

cherry tomatoes, halved

4 Tbsp

. (1/2 stick) unsalted butter, softened and cut into 1/2-inch pieces
Juice of 1 lemon (about 2 tablespoons)
1 tsp. fennel seed
1 tsp. black peppercorns
1 tsp. ground aleppo pepper (or paprika or crushed red pepper flakes)
1/2 Tbsp. kosher salt
11/2 pounds extra jumbo shrimp (about

16

to

20

shrimp per pound), peeled and deveined
2 Tbsp. neutral vegetable oil, like canola or grapeseed
2 garlic cloves, minced
2 Tbsp. chopped fresh oregano
1/4 cup dry white wine
1 cup shrimp stock (or unsalted fish stock)
Instructions
In a small nonstick pan, toast the fennel seed and black pepper over medium-low heat until aromatic, about 3 minutes. Allow to cool and then grind in a spice grinder. In a bowl, combine the ground fennel and black pepper with the Aleppo pepper and salt. Lay the shrimp on a baking sheet and generously season both sides with the pepper mixture.
Heat the oil in a large heavy skillet or Dutch oven over medium-high heat. Add the shrimp and sear for 11⁄2 minutes. Flip the shrimp, add the garlic and oregano,
and cook for 10 seconds. Deglaze the pan with the white wine, being sure to stir with a spoon to the bottom of the pan.
Add the stock and tomatoes and cook until they are heated through. Crush the shrimp heads with the back of a spoon to release the juices. Remove from the heat and fold in the butter and lemon juice, quickly but gently. Serve over rice.
Got a recipe to share?
Submit yours now!