Print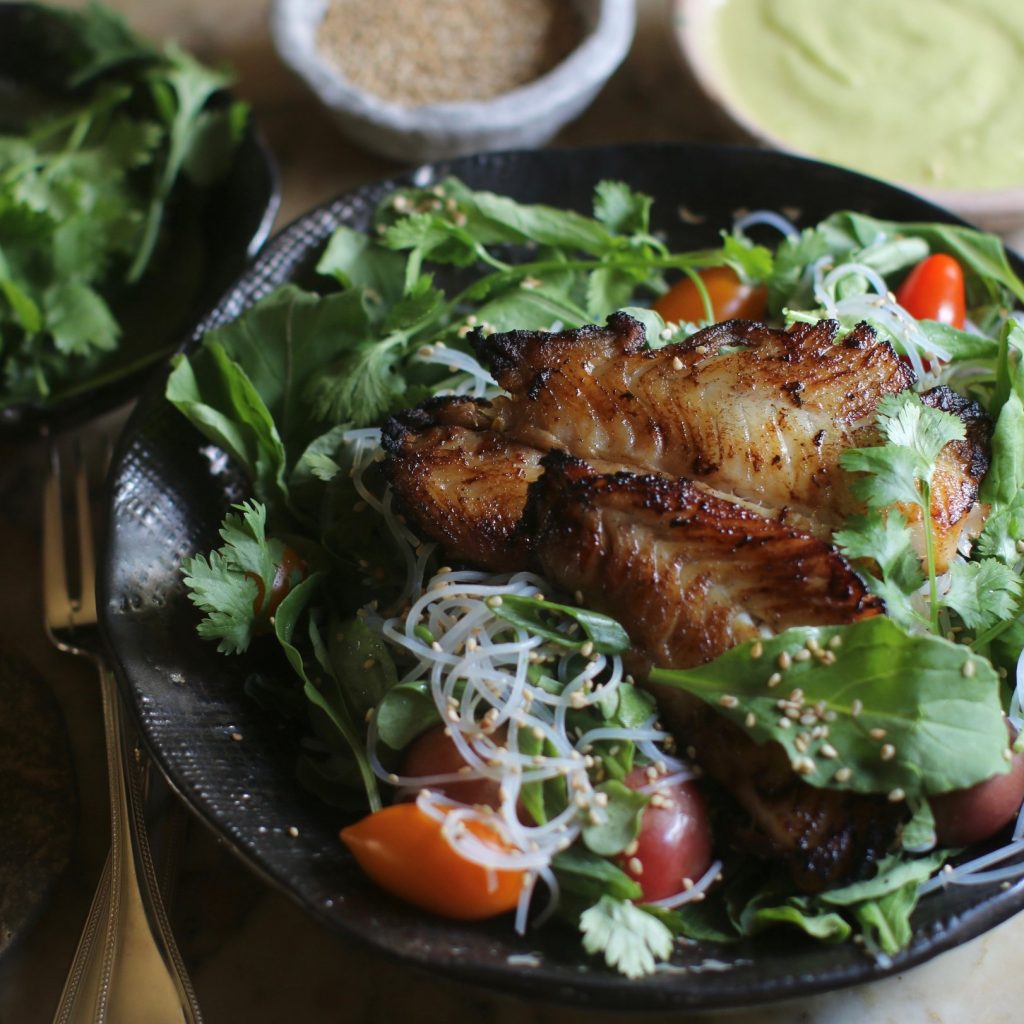 Yvette Zuniga Jemison Thai Speckled Trout
Author:
Total Time:

1 hr

Yield:

4

-6

1

x
Notes
For a tasty twist on a Louisiana classic, try cookbook author Yvette Jemison's Thai speckled trout!
JUMP TO RECIPE
ABOUT THE DISH
---
"When I married my husband, his mother and grandmother made sure I knew how to cook etouffees, fricassees, you name it! They wanted to be sure I knew how to cook for their Louisiana boy!" Laughing about her introduction to Louisiana cuisine, Texas native Yvette Zuniga Jemison knows that a good dish isn't just about the ingredients; it's about the hands of those who came before—the memories, traditions, and cultures of the family in the kitchen. "I've always loved to cook and always loved to be in the kitchen because that's where our family congregated. My earliest memory is making tortillas!" To Yvette, food and family cannot be separated, and her dishes carry the flavors and cultures of both the present and the past.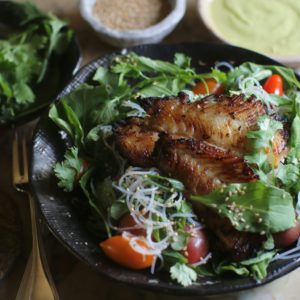 Yvette, who initially trained in speech pathology, made the transition to food when her two daughters left for college. Originally the "In Great Taste" columnist for Inside New Orleans magazine, Yvette blogs about her cooking adventures at YDelicacies.com. Her first cookbook, Entertain Effortlessly, Gift Deliciously, came out in 2017 and is full of simple recipes for entertaining and gifting around the holidays.
Yvette is currently at work on My South Texas Table. "This one is even more personal because it's my south Texas family and recipes that have been handed down verbally for generations that no one has ever written down." Feeling the pressure of the past, Yvette hopes to "capture those flavor memories" of her family and of south Texas that are quickly disappearing. After writing about her home state, Yvette plans to turn her attention to her adopted home with My South Louisiana Table.
Though Yvette's dishes carry the traditions, flavors, and memories of the past, she likes to innovate and reimagine those dishes for the future, highlighting the diversity of ingredients and possibilities. Her ingredients change with the season, but Yvette doesn't limit herself just to winter, spring, summer, and fall. "We have more seasons here in New Orleans, too—festival season and Mardi Gras, just to name a few."
And so, when speckled trout began to run, inspiration struck. Yvette decided to take the Thai flavors she ordinarily uses for marinating beef and apply them to the catch of the day. And thus Thai Speckled Trout with Green Onion Dressing was born. While Yvette has figured out how to make use of her husband's abundant catch, one question lingers: "The speckled trout come in and lay their eggs in the stillwater grasses. If those grasses are gone and the coast continues to disappear, what happens to speckled trout?"
RECIPE
---
Ingredients
Author:
Total Time:

1 hr
Yield:

4

-6

1

x
Ingredients
Fish
1/4

cup

tamari
3 Tbsp. orange juice
1 Tbsp. fish sauce
2 Tbsp. brown sugar
2 Tbsp. chopped fresh ginger
1 1/2 lbs. speckled trout
3 Tbsp. olive oil
Dressing
1/2

cup

green onions, coarsely chopped
1/3 cup rice vinegar
2 tsp. brown sugar
1 tsp. tamari
1 garlic clove
1/8 tsp. red chili pepper
2/3 cup vegetable oil
Salad
2

oz

. rice stick noodles
1 tsp. vegetable oil
5 oz. arugula
1 cup green onions, chopped
1 cup cherry tomatoes
1 cup cilantro leaves
3 Tbsp. toasted sesame seeds
Instructions
Fish
In a medium bowl, whisk together tamari, orange juice, fish sauce, brown sugar and ginger until sugar is dissolved. Pour into resealable bag and add fish.
Let marinate in refrigerator for 1 hour and up to 6 hours. Drain marinade before cooking.
In a large skillet on medium-high heat, heat olive oil. Working in batches, turning only once, cook fish until edges are dark brown and fish is cooked through, 3-5 minutes. 4.
Transfer to a serving plate until ready to assemble salad.
Dressing
In a blender, puree green onions, vinegar, sugar, tamari, garlic and pepper.
With blender on low speed, slowly pour oil into puree. Increase speed to high until dressing is emulsified. Refrigerate until ready to serve.
Salad
In a small pot of boiling salted water, cook noodles until al dente.
Drain and run under cold water. Toss with vegetable oil until coated. Cover until ready to serve.
In a large bowl, toss noodles, arugula, green onions, tomatoes, cilantro and sesames seeds with dressing.
Divide salad among plates and top with fish. Serve immediately.
Got a recipe to share?
Submit yours now!